InTime Deployment for Multiple Seats¶
InTime can be deployed on multiple networked machines or a server farm. Workload systems, such as LSF and SGE, are supported. Below is a typical deployment scenario for multiple InTime workers.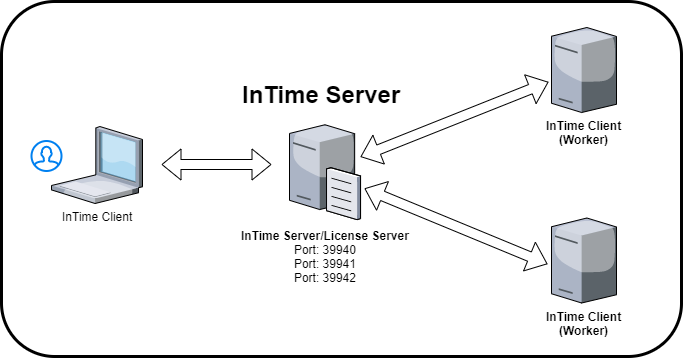 Private Cloud Components¶
These are the main components in a multiple seats configuration.
| Roles | Description |
| --- | --- |
| InTime Server/License Server | Manages the job scheduling, collating results and license management. |
| InTime (Worker) | Workers receives job assignments from the Server and runs them. |
| InTime (Client) | Client submits jobs (FPGA projects) to the Server and collates the results. |
Deploy License Server Separately¶
The InTime Server also doubles up as the license server. It is possible to deploy the License Server separately from the InTime Server. This can be due to administrative reason. For example, licenses are located on an isolated machine. Another reason to separate the License Server is because the InTime handles file transfer and acts as a file handling manager, it might be better to deploy it on a bigger machine.
To understand how to deploy the license separately, please refer to How to install License Server and InTime Server separately?
Job Scenario¶
This is a scenario of how a project is submitted over the the network to multiple machines.
The InTime Agent is launched on multiple remote machines.
The user starts an InTime Client. User opens a project and submits a job to the InTime Server. Usually this job has multiple revisions or strategies.
The InTime Server accepts this job and assigns a job ID to it.
The InTime Server queues the job and assigns individual strategy/revision to available InTime Agents.
The InTme Agent software will accept the job and start an InTime Worker instance to work on it.
Once the InTime Worker has completed their assigned strategy, the results are sent back to the InTime Server.
InTime Server will mark the job as completed when all the results are back.
InTime client will receive a notification in its next polling request. It will download the results, update the history and complete the job.
InTime Agent will exit (if there are no more jobs) in LSF/SGE environment.